Personnel operating aircraft engaged in over-water flight are often required or choose, to participate in AR-95-1 compliant underwater egress training. For most aviation professionals, but particularly for law enforcement and the military, the challenge is often finding the time and funding to travel to a training location.
In response to these challenges, we offer our FAA WINGS accredited Mobile Training option as a cost-effective solution to clients who neither have the available travel funds nor the lead time to arrange for travel. Our personnel will travel to your location, bring all the required equipment, and provide your personnel with the highest quality training available on the market today. Clients can elect to utilize specific training dates to best meet their needs, or can choose to attend training during one of our scheduled regional programs.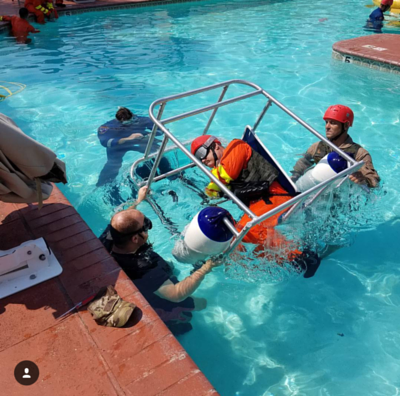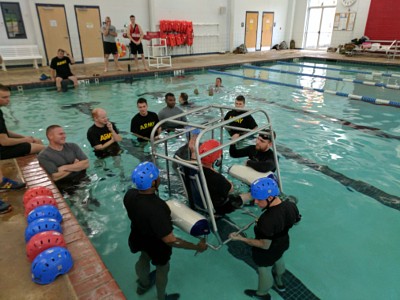 Check out our Mobile Training Team in action
LA City Fire Training in Van Nuys, CA
National Guard Training in, LA
Texas DPS Training in Austin, TX
Survival Systems USA Training Near Me​
Here's what we're talking about
Our Mobile Training Team brings Survival and Leadership & Team Development to your location. How will you respond when things get tough in the workplace . . . with coworkers . . . or underwater? Watch this video to find the answer.​
​We are proud educational providers for Helicopter Association International. Training over 100 aviation professionals in Atlanta, GA in during HAI Heli-Expo. Would you benefit from FAA WINGS accredited courses featuring industry best practices?
ALEA Training in Reno, NV
ALEA Training in Reno, NV
LA City Fire Training in Van Nuys, CA
HAI Heli-Expo in Atlanta, GA
HAI Heli-Expo in Atlanta, GA
HAI Heli-Expo in Atlanta, GA
Texas DPS Training in Austin, TX
"Shoreline Aviation has been operating seaplanes and amphibious aircraft for nearly forty years. We acquired our first Cessna Caravan Amphibian in 1987, and gradually replaced our fleet of aging C185s, C206s, and DHC-2s. We now operate ten Cessna Caravan Amphibians, including 3 new Cessna EX models. For more than twenty years, as part of our Emergency Training Program, we have required our seaplane pilots to go through the excellent training courses offered by Survival Systems USA, Inc. in Groton, CT. The instruction offered in the life vest, life raft, and water survival skills course augment our General Emergency Training curriculum and offer a more realistic environment than we can provide in our program. The Underwater Egress Training they offer, including the SWET chairs and the METS® (dunker training) are invaluable in helping our pilots develop the skills and situational awareness necessary to react properly and efficiently to save their lives should they find themselves upside down and/or underwater. While we have been fortunate enough not to have to put this training into actual use, the pilots recognize that the course increases their skill levels and their confidence, should an accident ever occur. Many of our staff have been through the course several times (we require that they go every two years) and they welcome the chance to refresh these skills and keep their awareness "current". Some say that it is the best training they have ever received. If you operate aircraft that take off and land on water, or consistently fly over open water, you should seriously consider this training for your flight crews." - John D. Kelly, President, Shoreline Aviation, Inc.
"The intensity and quality of training you have provided for us over the years certainly adds to our comfort and competency in over water operations. As a safety-conscious organization, your program continues to allow us to safely and effectively serve the citizens of the state of Maine and greater New England." - Lifeflight of Maine
Can't Come to Us? We'll Come to You!
Fill out this form to get started with booking, inquire about course pricing, or discuss preferred dates and locations. Calendar seats are booked on a first-come, first-served basis.​
Request Validation for FAA WINGS Accredited Activity

860-405-0002​ * 888-386-5371
Survival Systems USA, Inc.
144 Tower Avenue Groton, CT 06340
​
sales@survivalsystemsinc.com